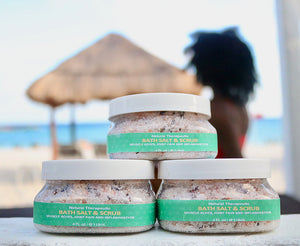 Therapeutic Bath Soak/Scrub
This mineral-rich aromatherapy infused salt blend is created to alleviate joint pain, soothes muscle aches and reduce inflammation while experiencing a skin softening, soothing spa feel right in the comforts of your tub. Can be used as a bath salt or scrub for a relaxing therapeutic healing experience-leaving you renewed and rejuvenated. 
Directions: Toss 1-2 tablespoons of bath soak under water and disperse throughout tub soaking for 20-30 minutes

Ingredients: Epsom Salt, Pink Himalayan Salt, Peppermint, Eucalyptus, Lavender Essential Oil Blend, Dried Herbs and Flowers
ALL SALES ARE FINAL. NO REFUNDS OR EXCHANGES.